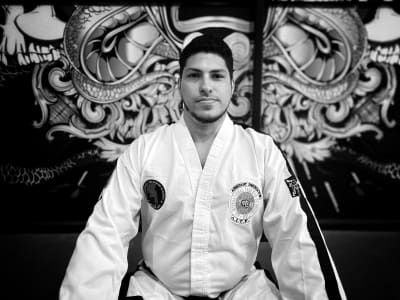 Antonio Portugal
Mr. Antonio Portugal was born and raised in Lima Peru, prior to moving to the United States. He was a member of the Peruvian soccer National team Sub 17.
At the age of 15, he started his martial arts journey, where he Joined the Taekwon-Do Peruvian Federation, attending many championships in the World Taekwon-Do Peruvian Federation.
Mr. Portugal attended San Martin University receiving his bachelor's degree in hotel Management. In addition, he was a soccer coach at the University, while continuing his martial arts training. After graduation, he moved to Puerto Rico, his father's homeland, where he started working for an international cruise ship for 6 years.
Mr. Portugal moved to New Jersey, where he continued his martial arts training. He is an active member and assistant instructor at the International Taekwon-Do Academy in Jersey City, New Jersey.
Not only he continues his Taekwon-Do training but brings a lot of knowledge to the academy. He has trained in Brazilian Jiu Jitsu, Muay Tai, Wrestling and Boxing.

After 17 years of training, Mr. Portugal attained his 3rd degree black belt. He continues his training under SahyunNim Victor Teran in Jersey City, who is a direct disciple of Great Grandmaster Kwang Duk Chung.